After piling my Easystreet through a tree I needed something knock-about to throw in the back of the car. I'd seen a Formosa I in action, nice little thing, so I searched the web. Just £25! Or for another couple of quid I could get it's bigger brother, the Formosa II. Well, bigger's got to be better hasn't it?
A couple of days later the box arrived. Inside were what looked just like the Airfix kits I made as a kid, only on steroids. Fuselage in left and right halves, wing halves, tailplane and rudder with moulded guides for cutting out control surfaces, a couple of bags containing moulded hard plastic 'bits' on the sprue, and a tube of GWS contact glue. No pics 'cos I just got stuck in and built it
OK, it goes together without too much hassle, probably easier if you just fold the instructions into a paper dart and make what you can with the rest. Drop of PU, some epoxy, a dab or two of cyno - whatever came to hand at the time.
Three immediate problems:
1) the only motor mount supplied is a stick mount for a GWS twin geared motor, luckily I'd got a ply motor mount box that was just the right size, so epoxy a 1/8" ply bulkhead on with captive nuts fitted, then screw on the motor mount. No point in being half hearted so a BL2815 920 kv rated up to 38A went on the front of that. I also lined the rather floppy plastic cowl with a couple of layers of cross-weave tape for resilience.
2) the UC legs are something like 18SWGG - open the living room door and the model sways in the breeze on these things, so they were replaced with 12SWG jobs.
3) my kit came without any hinges, i just used whatever furry ones I'd got lying about.
OK 12gm servos here and there to move the movey-about bits, 40A Mantis esc in the moulded duct between firewall and wing, 9*7 folder with a handy alloy spinner, 7 ch FrSky RX and a GenMax 2600 3S LiPo complete the kit. £70 W on a fresh battery, weight 32 ozs, that'll do nicely. It balances a little behind the CF spar - maybe 1/2" back of the suggested position. Well, we all know about suggestions, don't we
WTH let's give it a go anyway. I'd got a Cresent Tornado to maiden, so off I went: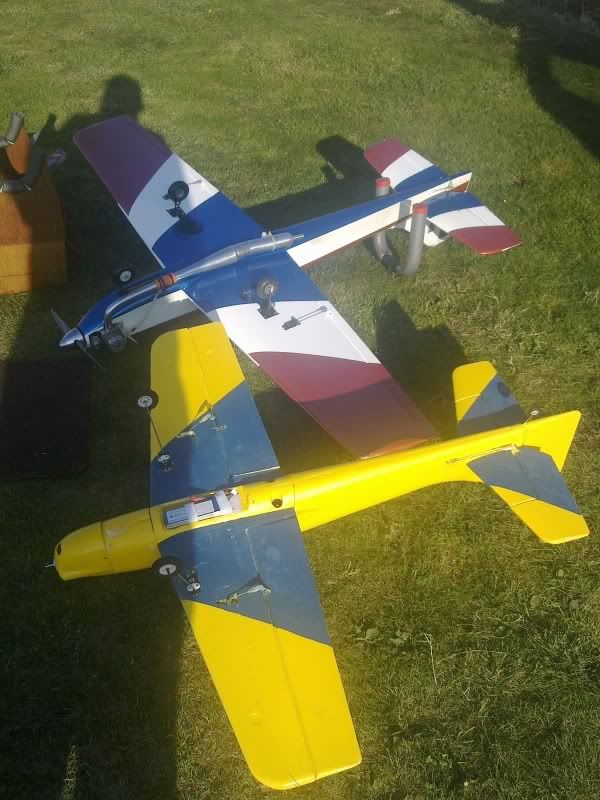 Needless to say the Formosa is the smaller of the two. No prizes for anyone spotting the slight hitch you can see here.
What a little lovely! 380W tugs it around nicely, just like a mini pattern model, nice and neutral, flicks and spins are a treat upright or inverted, yet when you shut the throttle it just floats around like an obedient floaty thing, almost un-stallable.
A word of advice for those who fly both IC and electric. Just because a particular model is electric doesn't mean it won't get fuel on it - I stupidly parked the Formosa behind the Tornado while starting that model up. Result - soggy paint acrylic doesn't like nitro/methanol, even after it's been through a piped .60.
Oh - yes, the hitch in the pics. Make sure your prop is on really tight before flying over a ploughed field, if it comes off it's gone for good. The 'mosa now sports a Graupner 10*6 ic prop and flies a treat on it giving 10 minutes of hairybatics from a 3S 2600 pack, and it coped with some pretty gusty conditions without a problem today.
If anyone wants a knockabout epo model that can perform serious aerobatics on call, take a look at the Formosa II